Mexico is a great getaway for anyone looking for sun. In 2006 when our daughter, Sydney, had just turned two years old we purchased tickets for a southbound plane to Cabo San Lucas in search of this mysterious thing they call sun. Living in the Pacific Northwest means we only get to see sunshine for two months a year, so we actually need to fly to other places to get our recommended dosage of vitamin D (I wonder if that is a medical write off). With our luggage full of warm weather clothing, sunscreen, and diapers we boarded a plane at PDX and soon discovered the other reason people go to Cabo; drunken debauchery. And drunks don't like two year olds! Let's just say we had the only child on the plane and leave it at that.
Upon landing at Los Cabos International we pushed the customs button and got the green light. If you have been to Mexico, you will know what I am talking about. But for those who have not had the pleasure, luggage and body searches are carried out through a lottery. You push a button and you will get a "random" green or red light. Green light means you go through unmolested. A red light and you have fulfilled the recommended prostate exam for the year.
Once outside the airport we found the shuttle buses and took one to Thrifty to pick up our car rental. We loaded up our sexy Nissan Tsuru with luggage, car seat, toys, sippy cups, snack food, and a stroller (traveling with kids is fun, really!) and headed off to enjoy our holiday in the sun.
A few days later we turned on the TV in our hotel room to see what was happening in the rest of the world. Just the usual wars, politics, celebrities and Hurricane Paul, which happened to be on a direct path towards Cabo San Lucas. Being October, we had never really considered the risk of Hurricanes, but we happened to pick one of the most active years for Pacific hurricanes.
After watching the destruction of Hurricane Katrina the previous year, let's just say we were a bit freaked out. I ran down to the hotel lobby and asked the hotel staff what they knew about the approaching hurricane. Their response, "Oh yeah, it's supposed to rain on Wednesday." Rain? A category 2 hurricane is fast approaching and they call it rain? I was a bit shocked at their response. Shouldn't they be freaking out like we do in the United States? The news channels never show calm people during a hurricane. We are supposed to panic! With not getting the proper response from the hotel staff, I proceeded to the hotel's business center where I knew I could find the information I was after; online news. The online news sources showed the path of Hurricane Paul and said that all of the tourists were panicking and heading to the airport to take any flight they could find to get out of the area. Now that's the news I was used to seeing. The end is near!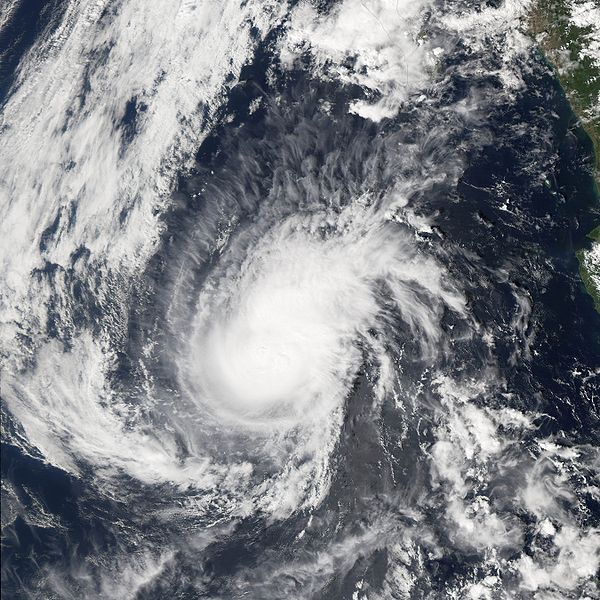 Knowing full well that we were not going to be able to get a flight out of the area, we did what most Americans do in time of crisis. We went shopping! With enough "stuff" you can survive anything. With our hotel room packed full of bottled water, beer, food, and pool noodles we prepared for the worst; and found calm. Sitting out on our balcony overlooking the marina we found the approaching hurricane beautiful. The setting sun was lighting up the hurricane's outer bands and creating stunning colors and patterns. Tomorrow we would find ourselves in the center of the storm and the future was unknown. So we enjoyed the moment, and forgot our worries.
We awoke the next morning to find that the locals were correct. It was raining. Overnight, Hurricane Paul weakened to a tropical storm and passed through the area as rain and rough surf, which actually killed two tourists who were walking on the beach. While the situation could have been much worse, panicking solves nothing. Our first reaction was to panic, as the news media has trained us to do. But panicking will not help you during a crisis. The best solution: Plan for the worst, hope for the best, and never panic.