And the winner of Travel Photo Roulette #56 is….
The person that was selected as the winner has declined to accept. So, a new winner will be chosen shortly.
Travel Photo Roulette #56: Patterns
It's great to be hosting Photo Roulette again. We hosted Photo Roulette #17 nearly two years ago with "Architecture"and it's great to see that this contest has continued for so long. So many great photos have been submitted since then and it is always nice to see the wonderful places that our fellow travel and photo bloggers have seen and photographed.
We won the last round of Photo Roulette #55 "The Natural World" hosted by Wanderlusters with this photo of a reflected blue heron that was taken in our hometown of Portland, Oregon.
Travel Photo Roulette #56: Patterns
When we learned that we won the last round of Photo Roulette we immediately knew what to choose for this round's theme. We are currently in Morocco and anyone who has visited a Muslim country should be familiar with Islamic geometric patterns. Geometric patterns are everywhere here, decorating anything and everything. Here is an example of a geometric pattern we saw on a fountain:
But wait, there's more! This theme is not limited to only manmade patterns, ANY pattern will work. In fact, some of my favorite things to photograph is patterns in nature. Here is an example of a great NATURAL pattern:
We look forward to seeing the PATTERN submissions for this round. Please try to get as many people as possible involved by sharing this contest (share buttons at the bottom.) And if there is a photo that you really like and think should win, please let us know in the comments below.
Contest Overview
The contest rotates through travel and/or photography blogs as such, the winner of the previous round of Travel Photo Roulette hosts the subsequent round on their own blog. The new host then chooses the next theme, a generic keyword or phrase and players submit their interpretations of the theme over the course of the week of the contest.
At the end of the week, the hosting blogger chooses their favourite photo from the submissions and displays it as the week's winning entry. They then include direction to the new host for the next round. Readers can attempt to lobby the author toward a certain photo via comments – the author can accept or ignore any lobby as they see fit. The game is repeated with the winner hosting the following week's game and choosing a phrase for new photo submissions.
Guidelines
One submission per blog (so sites that have 2+ authors only get one entry).
Post processing is permitted, but photo altering (ie. Photoshopping) is not.
Abstract submissions welcomed as long as it fits within the interpretation of the chosen phrase. Remember, the hosting blogger chooses the winner, so if they cannot understand the submission, you might not win!
Please try and keep your images medium-sized and web-optimized (around 800px).
If you win, keep these in mind when choosing a new theme:
Keep phrases general so that all bloggers can participate. Specific items like "Eiffel Tower" should be avoided but rather made open-ended like "monuments." For variety, it is okay to say focused things such as "monuments at night" which most of us have pictures of. Phrases can be generic 'signs', or abstract 'religion'.
Abstract thoughts are appreciated, but keep it within the realm that all readers will understand. No "Kafka-esque", or "Overlooking Creation". Use something that is able to be interpreted by all.

After 1 year, phrases can be reused, however new photos must be submitted.
No obscene pictures or phrases allowed. Suggestive phrases and photography can be accepted, but please keep it within reason.
Keep the ideas and photos fresh!
Pictures from your entire portfolio are fair to submit. You do not have to take the photo within the week of the contest period to submit it.
Most importantly,

all photographs must be your own

.
One last rule, since this is a competition for travel and photography bloggers, you must have a travel/photography blog to enter. Sorry!
How to Submit Your Photos
To enter in the Photo Roulette competition simply leave a comment below with a link to the image (whether Flickr, Picasa or your own site) so it can be uploaded to this post. Don't forget to provide a brief description or caption for the photo so the viewers can get a little background as to what's happening. Alternatively send your submission to the email listed in the top right corner of the website.
Check back here throughout the week to see all the entries as they come in and feel free to comment on them. The contest runs for 7 days from today, with the submission dates being March 17th to March 24th (Sunday to Sunday). The winner will be announced a few days after the deadline, and they will host round #57.
Past Photo Roulette Winners and Hosts
The following is a list of the previously played rounds of the game and the hosting blogger for each. This list also doubles as a winner's table as each topic host won the preceding round! Click the host's link to go directly to that entry to see some stunning photographs from the chosen term/phrase!
Entry #1
James from http://flyicarusfly.com
My entry is actually one of my all-time favorite desserts – strawberry mochi with red beans. I came away from Japan incredibly impressed with the amount of work that goes into the packaging of almost everything in an effort to appeal to all the senses. The devotion to beauty was amazing. With these desserts, you don't even need to know that they're the perfect marriage of textures and flavors. Just the sight of them is almost enough…
Entry #2
Jeremy from http://www.livingthedreamrtw.com
The Crystal Palace in Madrid had an interesting exhibit that featured repeating wine bottles of either clear or black color on the floor. I got a few interesting perspective shots that showed a near infinite display of the pattern. Love it!
Entry #3
Adam from http://travelsofadam.com
These macarons from a pastry shop in Toronto caught my eye – the colors were irresistible!
Entry #4
Jade from http://ourOyster.com
This photo is of a naturally occurring ochre pit in Central Australia. The Aboriginal people use ocher as a dye in their art work and to paint their bodies for religious ceremonies. It is a very important substance to their culture and is strictly protected. No one but the local Aboriginal people is allowed to remove any of the ochre from this site.
Entry #5
Norbert from http://GloboTreks.com
This is the blurred Himalayan landscape of the small town of Leh, filtered through the patterned wooden screen from a window in the abandoned Leh Palace.
Entry #6
Bethaney from http://flashpackerfamily.com
I snapped a picture of these neatly stacked Betel Nut leaves for chewing at a market in Burma.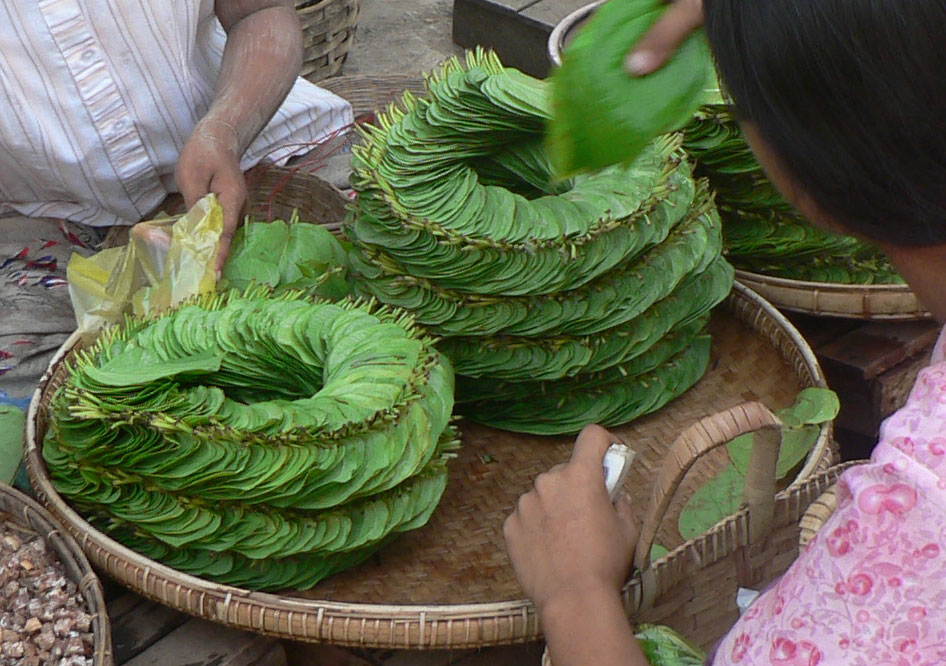 Entry #7
Suzanne from http://the-travelbunny.com
I was mesmerised by the patterns on the domes of the Blue Mosque when I visited Istanbul last year.
Entry #8
Greg from http://www.adventuresofagoodman.com
My submission is of a parking reflector. Just a simple everyday object, but I am consistantly finding new things in the photo. It's become my own personal Rorschach blot. What do you see?
Entry #9
Nico from http://www.tentimesone.com
Detail of a peacock mural above a palace doorway in Jaipur, India.
Entry #10
Natasha from http://www.worldwanderingkiwi.com
Here's an example of the ribbed domes and tiled minarets of Samarkand in Uzbekistan.
Entry #11
Lorenzo from http://www.belizeadventure.ca
The intricate design of Maya textiles can be found in many colors and patterns. Aside from looking beautiful and artistic, the different styles and symbols serve as social identity, geographic origin and pay homage to deities. Maya groups exist in Southern Mexico, Belize, Guatemala, El Salvador and Honduras.
Entry #12
Ben from http://wanderlusters.co.uk
A recent visit to the Auckland Art Gallery provided the opportunity to view infinite versions of yourself in a mirrored room. When standing at the door looking inside the floor appeared to be levitating above an infinite drop. Walking into the room felt quite surreal. I'm not sure I've ever seen myself from all angles before!
Entry #13
CosmoHallitan from http://www.ferretingoutthefun.com
This piece of art was hanging behind the check-in desk of our hotel in Xi'an, China. I thought the honeycomb pattern was really striking.
Entry #14
Jessica from http://missjessrose.com
A sandstorm began blowing in as I was biking through this art structure in Black Rock City last year. Otherwise known as Burning Man, Black Rock City becomes the third largest city in Nevada for one week each year in August. One of the most magical places –– and imagine, it's all temporary!
Entry #15
Patti from http://www.oneroadatatime.com
Union Station Ceiling – Washington, D.C.
Entry #16
Craig from http://flashpackatforty.com
I took this image on a trip out from Hue, Vietnam. After a day of looking at beautiful, yet grey temples around the area we stopped at one of the incense shops who make these scented gems in every colour imaginable. They all try and outdo each other with the artistic displays of their creations and I snapped this image of them.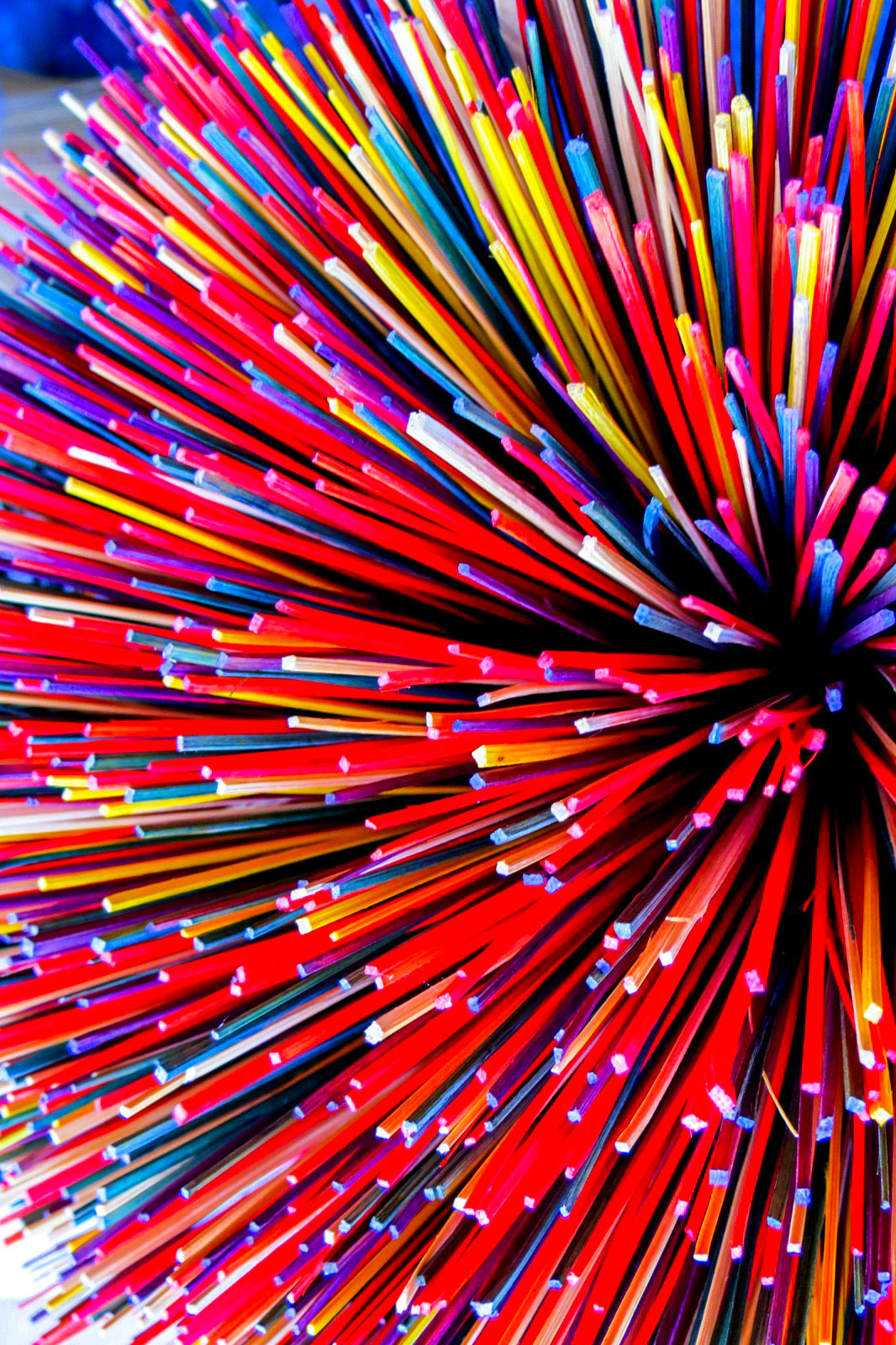 Entry #17
Jill from http://rwarrior.com
Sometimes the most beautiful patterns are in your very own backyard! We took this photo in November after all the leaves had fallen and before the snow started falling. It was just another dreary wet day, suddenly made brighter when we found this dewy leaf glistening with the patterns of droplets…
Entry #18
Cassie from http://www.everintransit.com
Here's a photo of jamón (legs of Spanish cured ham) hanging from the ceiling of a cafe in Granada, Spain. I love the look of the perfectly mounted rows of legs, though it was amazing to me that a small and relatively casual dining establishment would need so much ham!
Entry #19
Jennifer from http://jennywisearcade.blogspot.com
Photos of the Evil eyes, so prevalent in Istanbul
Entry #20
Sam from http://foodtravelbliss.com
I love going to the local markets – the bright, fresh produce makes some pretty impressive patterns.