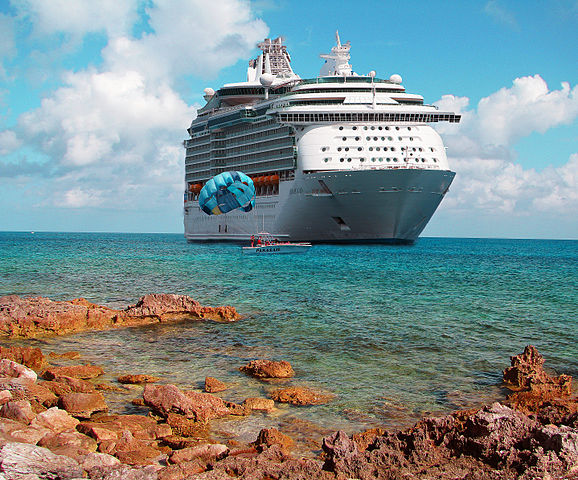 The Caribbean is one of the world's most desirable destinations and there's hardly a better way to visit the islands than by sea, where you can be transported to each island in style, as well as approach the stunning coastal locations of places like Antigua and Dominica from a unique perspective. If you're considered a family vacation to this beautiful region of the world then check out what you can expect from Caribbean cruises.
 Why a family cruise?
Caribbean cruise deals offer exceptional value for money and especially so for families. On-board accommodation can easily match that of any resort hotel and all-inclusive options are also available, which does make good financial sense on a family holiday. Live on-board entertainment, supervised children's activities as well as cinemas, swimming pools, fitness centres and spas are all available on today's cruise ships. The major bonus is of course the opportunity to relax on board as you voyage towards your Caribbean island of choice – fewer airport trips and hours spent in the car are always good.
Adventure activities in Antigua
On-shore excursions do make a holiday and families will love the adventure activities available in locations such as Antigua. This stunning island is home to 365 beautiful beaches and bays but there's also a wealth of family activities to enjoy. Learn to horse ride in the surf, teach your kids to snorkel or take them kayaking through the eastern Red Mangroves: a stop-off here will be an energetic one! Other ways to see the island can also include zipline canopy tours and jeep safaris through the rainforest, as well as treks through the immense Devil's Bridge National Park.
Beach fun in Barbados
The most eastern of the Caribbean islands offers a multitude of beaches to suit your taste. If you're looking for kayaking, jet-skiing and windsurfing then head to the southern, white sand beaches that are favoured by water sports enthusiasts. The beaches along the west coast, with their palm trees and shallow waters, are more tranquil and perfect for family picnics. Cruise ships will no doubt stop at the capital city of Bridgetown and this historic location offers plenty of attractions like the stately Parliament Buildings, as well as nearby Harrison's Cave, where all ages will be awed by the ancient stalactites.
The Caribbean's natural beauty spot
Dominica has been called the Caribbean's Nature Isle due to its unspoilt beauty and this is an island of lush mountain scenery, rainforests and magnificent waterfalls. Dominica is also the ideal island for adventure activities and sightseeing excursions. Day trips can include dolphin and whale watching trips as well as exploring a volcanic crater lake and viewing the amazing Trafalgar and Middleham Falls. A chance to snorkel at the vibrant Champagne Reef should not be missed; the name derives from the bubbles produced by underwater volcanic gases.
These are just three of the many islands that can be visited on a Caribbean cruise. Take your time to research the islands to decide which activities and sightseeing opportunities suit your group. But if you can't make up your mind, the beauty of a cruise is that there's always the option of an island-hopping trip!
Images by Rennett Stowe, used under Creative Comms license