One of the toughest decisions about long term travel is trying to figure out what to bring with you. There are so many options and possibilities that it can be a little overwhelming. After years (seriously!) of research and testing of products, here is our list of items we brought with us. These are our honest reviews and if it is garbage, it won't be listed here!
Bags
---
28″ REI Wheely Beast
After lots of research and testing out the different bags in the stores, we decided to purchase two (2) 28-inch REI Wheely Beast rolling duffle bags from REI. After 17 months of dragging these things up and down cobblestone streets, up and down stairs, through dirt and sand, and surviving baggage handlers, we know we made the right decision. The large wheels go over the roughest terrain, the zippers and fabric are bulletproof, and the compression straps are really nice for making your bag even smaller. They also have a separate front shoe compartment that works great to keep your dirty shoes and dirty laundry separate from your clean clothes.
Click here to see specs and reviews
26″ High Sierra Expandable Wheeled Duffel with Backpack Straps
This bag was given to us by one of our sponsors, High Sierra. It has been a good bag and has held up better than a lot of other bags we have had over the years, but still not as good as the Wheely Beast mentioned above. Also, the backpack straps sound like a good idea, but there is no way any of us can carry that bag on our back when fully loaded!
Click here to see specs and reviews
Daypacks
We have 3 day bags that we use to store our electronics in when traveling and also use the bags to carry stuff around daily. We have two High Sierra bags, which one was given to us by High Sierra and the other one we purchased and is nice as a camera bag. The third bag is a Lowe Alpine hiking pack that Kerri purchased to do the 100 mile Tour Mont Blanc in Switzerland. None of these bags are ideal for RTW travel and since day packs are such a personal choice, I won't even recommend the ones we have. They work, but are not perfect for travel day packs.
Click here to read specs and reviews of daypacks
Electronics & Accessories
---
15-inch Macbook Pro
After years of using Windows based PC's at home and work we were stumped on what computer to bring with us on our around the world trip. We have always heard good things about Mac's but they are expensive and we would have to learn a new operating system. In looking at Windows based laptops, which would be powerful enough to edit RAW photos and videos, the price was nearing that of a Macbook. In the end, we decided to go with a 15" Macbook Pro and feel it was one of the best decisions we have ever made. It's fast, powerful, stable, and not nearly as buggy as a Windows computer. It did take us a little while to learn a new operating system, but now we love it. We are now converts and plan to purchase an iMac once we resettle. Once you go Mac, you never go back!
Click here to see specs and reviews
Our Macbook is also loaded with the following software:
iPad 2
Our iPad is a must have for world travel. It acts as a computer, GPS mapping system, entertainment system, homeschooling tool, and eReader. The iPad is so much more than just a platform to play Angry Birds! We download digital versions of guidebooks for the places we visit and use mapping/GPS software to help figure out where we are. Our daughter loves using it for conducting homeschool research as well as listening to audiobooks on long travel days.
Click here to see specs and reviews
Cable Computer Lock (highly recommend)
If you have a laptop, you must get one of these! This allows you to leave your laptop safely locked up in your hotel room or apartment. We also use this cable with a small padlock to lock up our bags when we need to leave them in a hotel lobby or even on a train.
Click here to see specs and reviews
iPod Classic
Our entire music collection from home all on one device! We use this iPod with a docking station and can have our favorite music everywhere we go. Also good for long travel days.
Click here to see specs and reviews
iPod Nano
The smaller and cheaper iPod that is great for listening to podcasts or music on long travel days.
Click here to see specs and reviews
iPod Docking Station
If you enjoy music and have an iPod, then a docking station is a must. Yes, it does take up space and adds weight, but we really love to be able to listen to music without headphones or through the laptop. It's also great for connecting to the laptop to watch movies. It can really rock the place!
Click here to see specs and reviews
Kindle eReaders
We should have brought 3, or more!!!! We started with 2 Kindles and just recently one of our Kindles took a plunge from a high shelf and broke. We cannot find eReaders anywhere in Asia to replace the one that broke! And even with 2 readers there were times that all three of us wanted to read at the same time and we wished we had a brought along a third one. Now we only have one to share between the three of us. Finding paper books in English outside English speaking countries is very difficult. And if you can find them the selection is limited and the prices are usually marked way up. Books in digital format are great since we can download them anywhere in the world, and even borrow them from our library back home in Portland.
Click here to see specs and reviews
Bose Quietcomfort 15 Headphones
Expensive, yes! But for travel these are the best headphones in the world. Besides the really amazing sound quality, the noise cancelling really works. Sometimes it is nice to wear these without music on airplanes just for the noise cancelling. Just put them on, and the noise goes away and you can actually sleep. They are also nice to tune out noisy kids and pesky spouses 🙂
Click here to see specs and reviews
Koss Porta Pro Headphones
These are straight out of the 1980's. They look a little funky, but these are surprisingly one of the best headphones in the world, and incredibly cheap! After reading the raving reviews about these I decided to try a pair and immediately saw what the fuss was all about. The sound quality is superb!
Click here to see specs and reviews
Universal Powerstrip
This is one of the best things we purchased for this trip. With all the different types of plugs around the world, limited amount of outlets in most hotel rooms and apartments, and the large amount of electronics we have, this is a must! Not only does it protect your electronics from power surges, you don't need to bring as many adapters with you.
Click here to see specs and reviews
Power Adapters
If you are going to more than one country, chances are you will need power adapters.
Click here to see specs and reviews
 Camera Gear
---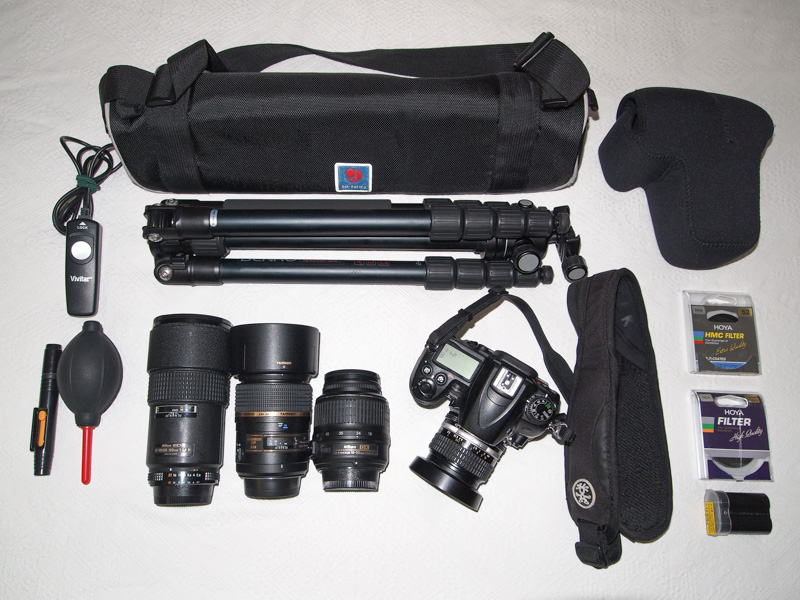 Since I spent countless hours reading reviews and testing different lenses before we left to travel around the world, I thought I might share what camera I gear I decided to drag around the world with me.
Camera Body: Nikon D7000 DSLR
I looked long and hard for the perfect travel camera and came to conclusion that one does not exist. They are either not rugged enough, too slow, too heavy, or too expensive. In my personal opinion and experience, the Nikon D7000 (or the newer D7100) is about as perfect as you can get. It has a rugged magnesium frame, dual SIM card slots, high FPS, great image quality, easy to use controls, and not too expensive. The file sizes are also manageable, which to me is very important when traveling. So why did I choose Nikon over Canon? While Canon makes nice cameras, I chose Nikon for the fact that I can use older Nikon lenses, whereas you cannot do that with Canon. I looked at the mirrorless camera options, but found too many limitations and prefer the speed and quality of a DSLR.
To make manual focusing much easier, I installed a KatzEye Optics split prism focusing screen. I initially purchased a much cheaper Chinese made one, but found it worthless. The KatzEye is not cheap, but is highly recommended if doing any manual focusing.
I have also added a Crumpler Industry Disgrace camera strap, which I highly recommend.
Lenses:
Nikon 28mm f/2.8 AIS (manual focus)
This little 28mm manual focus lens is amazing and is my favorite lens. It is optically a masterpiece and built like a tank. I love to use this for long exposures,  landscapes, and street photography.
Nikon 18-55mm f/3.5-5.6G AF-S DX VR
My D7000 came with the 18-105mm kit lens and I found the images it took to be too soft. It was also too heavy and bulky for travel, so I sold it. I had heard good things about the cheapy little 18-55 lens and thought I would give it a try. I found the images sharper than the 18-105mm and it's easy to walk around all day with this lens on the camera.
Tamron AF 90mm f/2.8 Di SP Macro
I thought it might be good to have a macro lens and this lens came highly recommended. It was also said to be an excellent portrait lens. I have a love/hate relationship with this lens. While it is not too heavy, it is really bulky. I do not do too many macro shots, and have had problems with this lens hunting for focus when shooting in the distance. When the lens does nail the shot, the images are stunning and the bokeh is nice and creamy.
Nikon 180mm f/2.8D ED-IF AF
I love this lens! The optics are amazing, the bokeh is smooth and creamy, and it is fast! I use this lens for shooting animals and portraits. I would love to have the even more impressive Nikkor 70-200mm, but the size and weight make it not a very good candidate for long-term travel. This little 180mm is built like a tank, has a built in lens hood, and is a very manageable size for travel. When I first bought it my test shots had a purple fringe around high contrast areas, but as soon as I placed a Hoya UV filter on the front, the purple fringe went away.
Click here to read specs and reviews
Tripod: Benro A1691T Travel Angel
It may sound crazy to drag a tripod around the world, but it has helped get some amazing night shots. I looked at so many different tripods and finally decided on the Benro A1691T Travel Angel. It's lightweight, compact, affordable, and is really stable. It also converts to a monopod for places that do not allow tripods. This is a great tripod for travel!
Click here to read specs and reviews
Misc.
What I would change
Now that I have been traveling with this camera gear for over a year on the road, I wish I had done a couple of things differently. I should have purchased either the famed Nikon 24-70mm f/2.8 lens or the older and much cheaper Nikon 35-70mm f/2.8D lens. There have been many times where I could have benefited from one of these pro lenses. The 18-55mm I have is nice for a lightweight walk around lens, but when I need to have pro glass and autofocus, the 24-70mm or 35-70mm would have been a really nice addition.
The other thing I would have done differently is brought along a messenger style camera bag. I started with a camera backpack, but ended up sending it back home due to it's size and limitations. I am currently looking for a messenger bag and will buy one as soon as I can find one!
Clothing for 4-Seasons
---
Jason
3 cotton or light merino wool t-shirts
1 short sleeve button shirt
1 long sleeve button shirt with button and strap for rolling up sleeves
1 merino wool sweater
2 pairs of pants/jeans
1 pair of shorts
5 underwear
1 swimsuit
1 warm hat
1 pair of gloves
Kerri
(Coming soon)
Jackets
Beware of any rain jacket that says "breathable" as it will eventually fail. We have even found that Goretex fails eventually. Best to save your money and pick up a lightweight non-breathable rain jacket shell or poncho.
Footwear
A good comfortable pair of shoes is very important, as you do a lot of walking when traveling. For 4 seasons you will need a good waterproof pair and we went with low cut waterproof hikers. Hiking shoes are great for trail and urban settings, but they do mark you as a tourist. If you are not into hiking then a pair of leather casuals like Clarks are highly recommended. Not only are they comfortable and waterproof, but they are stylish and you will fit in with the locals. The other option is a good pair of sneakers. Sneakers are everywhere and are the shoe of choice in most places. Besides shoes, a pair of sandals is nice for warmer weather. We prefer KEEN Newports.
1 pair of waterproof shoes
1 pair of sandals/flip-flops
Before You Go!
---
One last bit of advice that we wish someone had told us before we left. Once you get everything that you plan on taking with you, pack it up into your luggage or backpack(s) and take it for a real life spin. Walk out of your house, walk down the street with it, take it on the local bus, walk up and down some hills, and then go somewhere with 6+ flights of stairs and walk up and down with your bags. This may sound excessive, but this is exactly what we go through just about every time we move to a new location. If we would have done this before leaving I guarantee that we would have found a way to lighten our bags! When you go, travel light!!!!