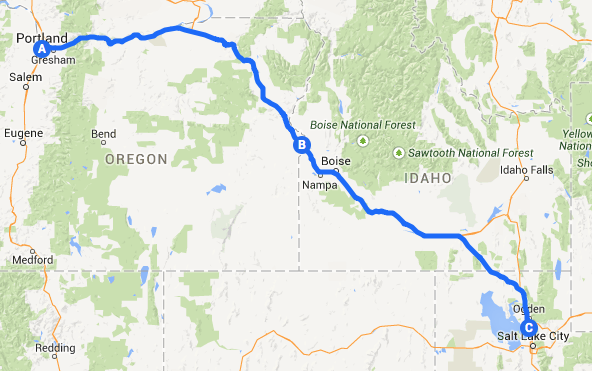 Our cross-country road trip from Portland, Oregon to Portland, Maine is taking a southern route that we have nicknamed, "putting a smile on America." Our route starts in the northwest, dips down to the south, and then continues up to the north creating what looks to be a smiley on the map. The reasoning behind our extended route is to avoid the harsh winter conditions in the north, but more importantly to visit with family members that we have not seen in over 2 years.
The first stop on our cross-country trip after leaving Portland, Oregon was to the small town of Ontario, Oregon to visit my mom, brother, niece, aunt, and friends. We spent nearly a week in Ontario and the Boise area visiting with everyone while struggling with the below freezing temperatures. Having come from summer in the southern hemisphere, we have not yet acclimated to winter in the northern hemisphere. Hopefully we acclimate soon as Maine is having blizzards and below zero temperatures!
After leaving Ontario we drove through thick fog in freezing conditions, but once we hit Boise we had blue skies and the temperature warmed. The stretch across southern Idaho is not exactly scenic, so when we saw the sign for Three Island Crossing, a famous point along the Oregon Trail route, we had to stop. Our daughter, Sydney, has been studying the Oregon Trail as part of her homeschooling and we thought it would make a good school field trip stop.
Once back on the road we drove through a whole lot of nothing, some more nothing, and then crossed into Utah and finally saw mountains, which is better than nothing.
We are currently in Layton, Utah visiting with Kerri's sister, brother-in-law, and the nieces. We are also having our car modified with a trailer hitch and trailer wiring so that we can carry all the crap that we left here across the US to Maine. We must have been crazy to think this was a good idea, but only time will tell.
Our cheap and cheerful car is doing well, but our fuel economy is not so good. Our Audi A6 wagon is said to get 27 miles per gallon on the highway, but we are consistently seeing only 20 MPG. Perhaps it is the studded tires, or maybe the car needs a tune-up. Hopefully it doesn't drop to 10 MPG once we had a trailer!
On Sunday the plan is to head southeast towards New Mexico to visit with Kerri's parents. This leg of the journey will take us over the Continental Divide. Normally this is not a big deal, but when we are towing a trailer and snow is predicted in the forecast, it could get a bit hairy.
Wish us luck!