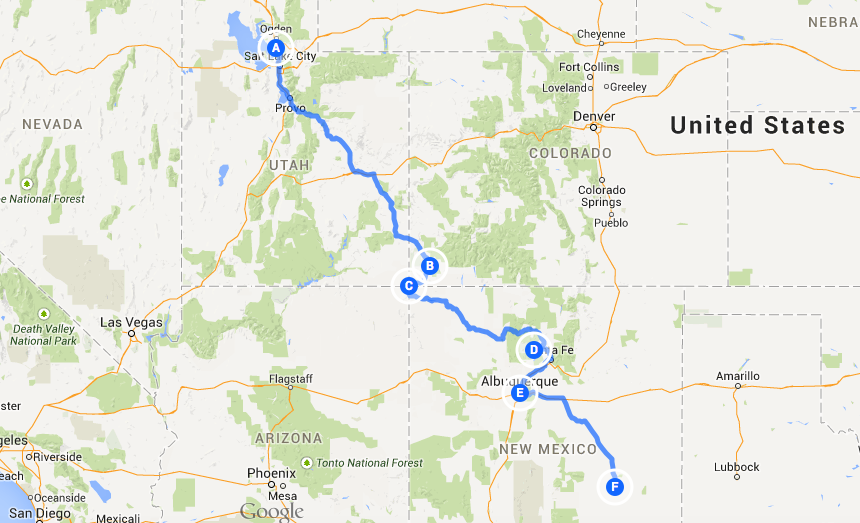 Our cross-country road trip is a combination of moving from Oregon to Maine, visiting with our family that we have not seen in over two years, and gathering the little bit of junk that we left behind.
Before leaving for our around the world adventure over two years ago, we got rid of pretty much everything we own. Everything we had left, which included photo albums and other "important stuff", fit neatly into a 4×8 U-haul trailer and was left at Kerri's sister and brother-in-laws house in Utah. We also left some books at my mom's house in Oregon, but due to lack of space inside our Cheap and Cheerful Audi we are going to have those shipped to us once we reach Maine (thanks mom). We could have rented a trailer, but we had no trailer hitch at that time. That came later.
After driving across Idaho we reached Layton, Utah and enjoyed visiting with Kerri's sister Alison, brother-in-law Scott, and the nieces Cassie and Rose. During our stay in Utah we had a trailer hitch installed on our Audi A6, which turned out to be a bit of a hassle, but I won't bore you with the details. Let's just say that Audi's are not the easiest cars to work on and it left the people at U-haul scratching their heads on how to get the rear bumper off. Luckily, someone documented the procedure and posted the instructions online. We also had a new key made at the dealership since the key that came with the car was broken and missing the buttons. Those Audi keys are not cheap and it cost us $208 for a single key. Crazy!
Once we had a trailer hitch installed we picked up a 4×8 trailer and dug out all of the crap we left behind 2 years ago. Our first reaction after seeing the boxes was, "Why did we keep this?" Even though we got rid of lot stuff, we feel we could have done better. The majority of the stuff we have left is going right back into storage once we reach Maine. Perhaps we should have got rid of everything and had a seriously clean start!
After saying our goodbyes in Utah we drove south towards New Mexico. Since we were pulling a trailer we wanted to avoid steep hills and snow, so we took a slightly longer route. The weather was great and we arrived in Cortez, Colorado just as the sun was setting. We found a cheap room at a Super 8 and ordered a Dominos pizza. Life on the road!
The next morning we packed up and continued towards New Mexico. On the way we took a slight detour and visited the Four Corners Monument, which marks the convergence of Utah, Arizona, Colorado, and New Mexico. We were a little shocked to find the price to be $5 per person to visit a survey marker, and unfortunately the fry bread food carts weren't open.
After visiting Four Corners we stopped at Aztec Ruins National Monument. We are suckers for old ruins and couldn't resist stopping to explore. They even had a Junior Ranger program for kids and after completing her booklet; Sydney was excited to get sworn in as an official National Parks Junior Ranger. She now wants to visit every National Park and monument in the United States. Yikes!
After our detours we arrived safely at Kerri's parents house in Los Alamos, New Mexico and unloaded our trailer's contents into their garage. It was cheaper to rent a trailer in segments that it was to rent it to go all the way cross-country. We had just missed a snowstorm and there was snow piled up around town, but the weather was really warm when we were there. We did some hiking around the area and Sydney got a new Junior Ranger patch for visiting the Bandelier National Monument. I have never been a fan of high altitude and spending a week at 7000 feet was rough. I can't wait to be back at sea level again! We had a great, but breathless, week visiting with Kerri's parents and after picking up and loading our U-Haul trailer we were off to visit Kerri's sister Erin and brother-in-law Ralph in Albuquerque.
We stayed just one night with Erin and Ralph and the next morning we were on the road again. After passing though a whole lot of nothing, we arrived in the bizarre town of Roswell, New Mexico. Roswell is said to be the location of an alien spaceship crash in 1947. Of course, the US military says it was a crashed weather balloon. Whatever the story, we toured the world famous Roswell UFO Museum. The museum was pretty cheesy and was not as exciting as we had expected.
Since New England is getting hammered with massive snowstorms, we decided to hang out in warm and sunny New Mexico for just a little longer. Tomorrow we plan to visit Carlsbad Caverns where Sydney can get a new Junior Ranger badge and we can explore someplace new. Afterwards, the plan is to drive across Texas. Yeehaw!