10 Awesome Activities Near Coors Field
There are a tremendous amount of great baseball stadiums in the United States. Dodger Stadium, Angel Stadium, and Fenway Park are famous on an international scale. The same applies to Coors Field, the home of the Colorado Rockies.
A visit to this beloved stadium is nothing short of enchanting, but what about the surrounding area? Today, we'll show you 10 awesome activities near Coors Field. Drop your extra bags off with a luggage storage service near Coors Field before you go sightseeing. 
16th Street Mall
Going on a shopping spree is a great way to get comfy in a new city. The bigger the mall, the more you'll get settled in. We recommend visiting the 16th Street Mall when you arrive in Denver. This supersize shopping mall has over 40 outdoor cafes.
It's also linked to the Denver Pavilions via shuttle buses. This airy, outdoor venue has lots of trees and a pedestrian promenade. Not to mention, the daily special events include rock concerts, fairs, and tasting events.
Denver Botanic Gardens
City life is great, but so is getting in tune with nature. Thing is, it's not always easy to drive out to the forest. The Denver Botanic Gardens offers a safer, closer alternative.
Hundreds of plant species and art exhibits spread across 23 acres. Features include several different garden spaces, each with geography-specific plants. The Gardens of the West and the Ornamental Gardens are just two standouts. 
Denver Mint
Have you ever wondered where the term "mint condition" comes from? It's referring to the United States Mint, the organization that creates American coins. The Denver Mint is an extension of that organization, servicing Denver since 1897. 
The historical significance of this venue is unparalleled. It's one of the only facilities of its kind that still operates today. You can sign up for a tour of the Denver Mint and admire all the hard work that goes into making a single penny. 
Denver Zoo
Nature is amazing… from a safe distance. As much as we'd like to shake hands with a gorilla or high five a tiger, we're also very fond of living. Visiting most animals in their natural habitat isn't a great idea. Visiting them at the Denver Zoo certainly is. 
Over 80 acres of green space have been transformed into a haven for various animals. Familiar creatures like Giraffes are next door neighbors with Malayan Tapirs and Mountain Bighorn Sheep. Personally, we're stoked about the Polar Bears and the Orangutans. 
Elitch Gardens
Each city has something special and unique to offer. Denver has quite a few things, and Elitch Gardens is one of them. Don't let the name fool you, Elitch isn't a botanical garden — it's the city's most famous and popular theme park.
This venue has quite the rap sheet; it was one of the first zoos in Colorado and it hosted one of the first symphonies. Now, you can find everything from drive-in movies to water rides and thrill rides. Elitch's is great for groups of all ages and sizes.
Empower Field at Mile High
America — land of the free, home of the cheeky nicknames. It's not enough to say that a venue has a lot of elevation. It has to be "mile high". That's exactly what happened to Empower Field, a football stadium that opened in 2001.
Empower Field borrows its name from Denver's nickname "The Mile High City". The Denver Broncos are the main team that practices and plays here. We'd be remiss not to mention the Mile High Monument, a gorgeous structure that greats all visitors.
Falling Rock Tap House
The Falling Rock Tap House is the go-to place for great beer and great company. The beauty of this bar lies in its simplicity; they've got strong drinks, tasty food, and a rock-solid (sorry, couldn't resist) outdoor patio. And that's just on the first floor.
The games begin on the lower levels. Here, you'll find several pool tables and dartboards. The Falling Rock does have one quirky feature; over 2,200 beer bottles decorate the bar. They belong to the bar's founder, from his personal collection. 
For many baseball fans, visiting the Falling Rock before or after a big game is a ritual. Chris, the bar's founder, is well aware of this fact. That's why he serves over 120 different bottles of beer and has more than 90 brands on tap.
Larimer Square
Larimer Square is a name that holds a lot of weight for Denver's citizens. It belongs to one of the oldest and most historically significant parts of the city. Whenever a big event takes place, chances are it's being held at Larimer Square. 
There's never a dull moment here; numerous restaurants, clothing stores, bars, and activity centers are all within walking distance. Larimer Square also hosts a myriad of festivals and community events throughout the year. Definitely keep your eyes on the calendar.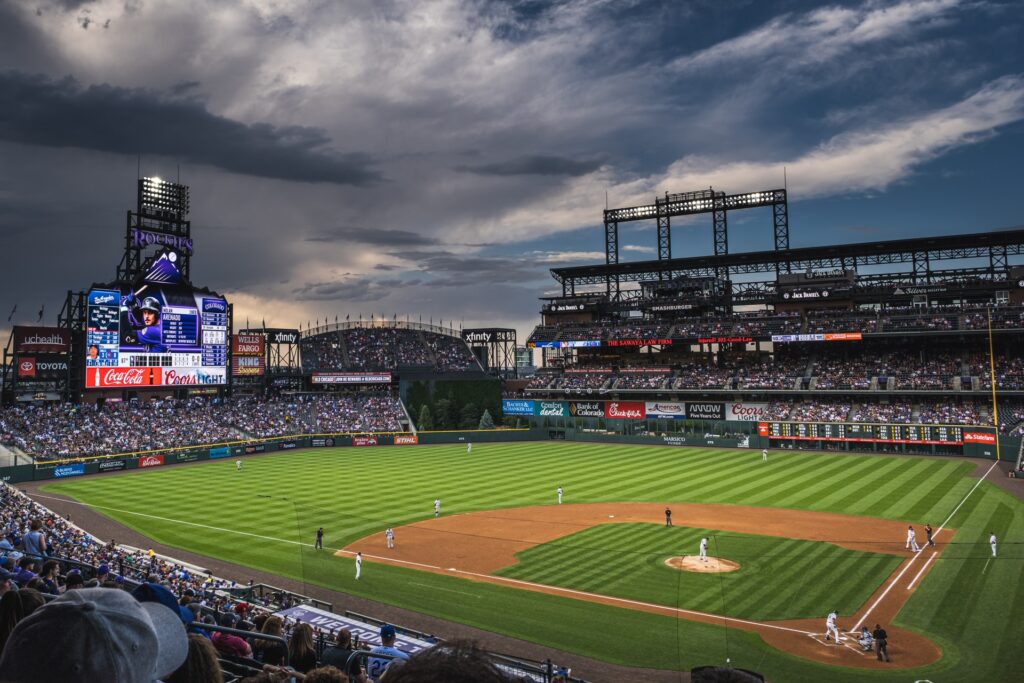 National Ballpark Museum
Baseball is often touted as America's favorite pastime. The sport soared to the heights of popularity between the 1920s and 1960s. The National Ballpark Museum is dedicated to all things baseball and is extremely popular with families.

The National Ballpark Museum is a private collection of great acclaim. Even the Smithsonian Books organization has called it one of the finest private collections on Earth. As you can imagine, plenty of players regularly visit the museum.
Ball Arena
Back in the day, people only cared about one thing; finding out if you're a Pepsi fan or a Coke fan. If you think we're joking, we're not; the 1980s were rife with ad campaigns that cheered one brand and jeered the other. Even the Ball Arena used to be called the Pepsi Center.
These days, the Ball Arena is known as the home of the Colorado Avalanche, the Colorado Mammoth, and the Denver Nuggets sports teams. If you look hard enough, you can still find remnants of the Pepsi Center.